UISG Campaign
In Laudato Sí, Pope Francis has underlined the fundamental connection that exists between the environmental crisis and the social crisis that we are currently experiencing and asks us for a personal and community ecological conversion. He often reminds us "everything is interconnected." "Sowing Hope for the Planet" is a project in which every Sister whose congregation is a member of UISG, and their connections are provided with an opportunity to make a difference in our care of the planet. This project is a collaborative effort of the JPIC Commission in the name of UISG and the Global Catholic Climate Movement (GCCM).
---
Moving Forward with the Laudato Si' Action Platform
a webinar presented by Sowing Hope for the Planet, June 9, 2021
posted 6/15/2021
---
.


Season of Creation 2021
A home for all? Renewing the Oikos of God

During the 2020 Season of Creation, from 1 September through 4 October, thousands of Christians on six continents united for a time of restoration and hope, a jubilee for our Earth, and discovered radically new ways of living with creation.

More than ever before, the global Christian family united to pray and take action for our common home.

More information and the guide for the Season of Creation 2021 can be found on their website at https://seasonofcreation.org/
posted 6/15/2021
---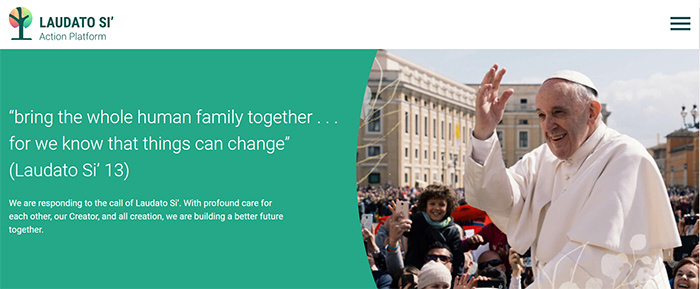 .
The Dicastery for Promoting Integral Human Development's Laudato Si' Action Platform is a space for institutions, communities, and families to learn and grow together. You are warmly invited to join this community. Your unique "culture, experience, involvements, and talents" are needed on our journey towards greater love for our Creator, each other, and the home we share." (LS 14). For more information, go to the LSAP website at: https://laudatosiactionplatform.org/
posted 6/15/2021
---
| | |
| --- | --- |
| Pope Francis on the Laudato Si' Action Platform | Creation Care Prayer Network Webinar |
posted 6/03/2021
Global Catholic Climate Movement
LAUDATO SI'
Special Anniversary Year
24 May 2020 – 24 May 2021
---
Sowing Hope for the Planet
has a YouTube channel, Planet Hope,
where we post informative videos and
recordings of webinar sessions.
Please visit the channel!
We Are Sorry Mother Earth, composed by Sr. Nivis Tatah
Essentially Beautiful, words and music by Sr. Alphonsa Kiven, Tssf
Do Something, words and music by Sr. Fidelia Chukwumah OLA